Ny-Ålesund is owned and managed by Kings Bay a/s, a corporation owned by the Norwegian Ministry of Climate and Environment. Kings Bay provides all the community services and infrastructure including power and water supply, harbour facilities, air links to and from Longyearbyen and a shared dining facility.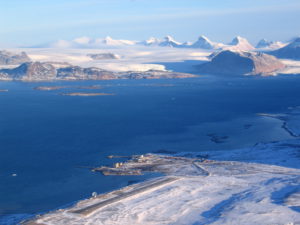 In 1991, Ny-Ålesund became the focus of an international research community, currently populated with fourteen independently operated research stations led by ten nations (UK, Norway, Japan, Germany, France, South Korea, India, China, The Netherlands and Italy). Each Station has a representative on the Ny-Ålesund Science Managers Committee (NySMAC), an international coordination body that contributes to the support and development of Ny-Ålesund as an outstanding site for international Arctic research and long term monitoring, by promoting greater coorperation between scientists and research projects. Nick Cox,  as Station Manager for the UK Arctic Research Station, sits on this Commitee . NySMAC's Secretariat is hosted by the Norwegian Polar Institute in Tromso. Further information about NySMAC can be found here.
Visiting Ny-Ålesund
Ny-Ålesund is easily accessible from Longyearbyen, which has regular flights to and from the UK. It is also possible to reach Ny-Ålesund by boat.  The airstrip is approximately  a ten minute drive from the Kings Bay Reception area and transportation to and from the base is provided by Kings Bay.

Visitors to Ny-Ålesund require the approval of one of  the international research stations mentioned above. Casual visitors are not allowed access to the infrastructure and anyone wishing to visit Ny-Ålesund should contact their national operator or the Norwegian Polar Institute who cater for those from countries who do not own a station in Ny-Ålesund. Further information about Ny-Ålesund can be found on the Kings Bay website.
About Svalbard
The Svalbard archipelago which is part of the Kingdom of Norway lies 450 kilometres north of Norway and 1000 kilometres from the North Pole between 74° and 81° North and 10° and 35° East and has a total land area of 62,400 sq km.
The main islands in the group include Bjørnøya, Edgeøya, Barentsøya, Prins Karls Foreland, Kvitøya, Hopen, Nordaustlandet and the largest island, Spitsbergen. Longyearbyen which is a Norwegian town with a population of 2000 inhabitants, is a coal mine settlement and the administrative centre for the archipelago with the only airstrip in the region available for large aircraft from Norway and abroad. Other settlements include Svea, Ny-Ålesund, Barentsberg, and Hornsund. There are Norwegian research stations on the islands of Hopen, Bjørnøya and Jan Mayen.
Svalbard is  GMT + 1 hour. The currency used is Norwegian Krone. Credit cards are accepted in Longyearbyen and Ny-Ålesund.