As part of it's remit, the NERC Arctic Office aims to promote and communicate UK Arctic research to a wide audience, including policy makers. In this section we provide examples of recent reports we have contributed to, as well as Committees where the NERC Arctic Office seeks to represent UK Arctic research interests.
Cross-Whitehall Arctic Network
The NERC Arctic Office is a member of the Cross-Whitehall Arctic Network, a group of representatives from Government departments and agencies. The group meets around twice a year to discuss Arctic policy matters, share information and updates, and identify emerging issues and opportunities. The group is chaired by the Polar Regions Department, FCO. The NERC Arctic Office role is to ensure that we maximise the opportunities for UK-based researchers through identifying and following through on new connections, as well as providing science to policy advice directly, as well as through suggesting engagement with key experts.
All Party Parliamentary Group on the Polar Regions
This is an informal group established to inform and educate MPs and Peers on polar issues. The APPG is chaired by James Gray MP. It hosts regular meetings in Parliament which are open to non-Parliamentarians on a very broad range of issues connected with the polar regions, including tourism, climate change, expeditions, security and governance, commercial engagement and many more. The NERC Arctic Office and the British Antarctic Survey were pleased to be able to host a visit from the Group to the UK Arctic Research Station in Ny-Alesund in August 2017. We work closely with the APPG to support their interests and engagement in Arctic issues and connect researchers to policy and decision-makers. Henry Burgess, the Head of the NERC Arctic Office, is a member of the Group's Advisory Council. You can sign up for regular bulletins and information notes from the Group by contacting info@appgpoalrregions.uk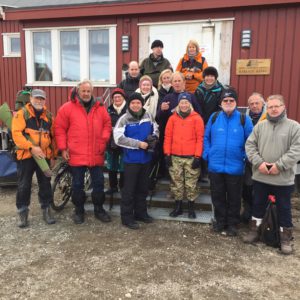 IASC Action Group on Communicating Arctic Science to Policy Makers
The NERC Arctic Office is part of a new IASC Action Group which will make recommendations to the IASC Council on how best to communicate Arctic science to policy makers. Working alongside colleagues from Poland, Germany, Korea, United States, Norway, the aim is to help focus on the opportunities to present the reality of Arctic science programmes and initiatives to the wider community.