Today the Government launched its newly revised Arctic policy document – Beyond the Ice. It provides an overview of the approach that the Government will take to Arctic issues in the years ahead.
In launching the document the Minister of State for the Polar Regions Sir Alan Duncan said '…the UK's role in the Arctic reflects the very best of what Global Britain has to offer, from world-leading science, and business investment, to our commitment to environmental protection, international cooperation, and the rules-based system.'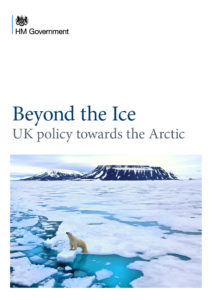 The full report can be viewed and downloaded here: https://www.gov.uk/government/publications/beyond-the-ice-uk-policy-towards-the-arctic
The NERC Arctic Office works closely with the Polar Regions Department in the FCO and with many other Departments across Government to maximise the positive connections between Arctic research, policy development and implementation. We look forward to continuing that relationship in the context set out in Beyond the Ice and in supporting the UK's active engagement in the key issues facing the Arctic.